Janome HD 3000 BE Black Edition with Exclusive Bonus Bundle
The Janome HD 3000 is Back in Black! Stand out from the crowd with bold design, straight forward operation, heavy-duty construction and plentiful accessories.
Exclusive Bonus Bundle includes: 5 Piece quilting kit; 1/4" Seam Foot, Craft Foot, Cloth Guide, Darning Foot, Even Feed Foot, Quilt Guide and a 5-year extended warranty!
Key Features:
FREE ARM SEWING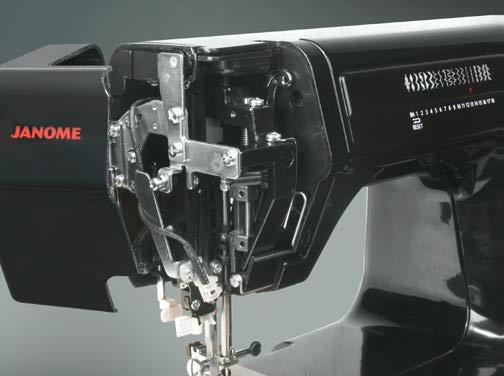 SOLID HEAVY-DUTY CONSTRUCTION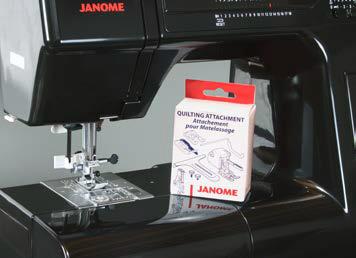 BONUS: QUILTING ACCESSORY KIT
Features:
• 18 Stitches
• One-step buttonhole
• 9 Snap on accessory feet (overedge, zipper, blind hem, satin stitch, hemmer, zigzag, transparent buttonhole and button sewing, ultra-glide and buttonhole)
• Hinged faceplate
• Drop in bobbin
• Adjustable stitch length and width
• Built-in needle threader
• Convertible free arm
• Auto declutch bobbin winder
• Extra presser foot lift
• Bright LED lamp
• Drop feed slide control
• Maximum speed: 860 SPM
• 7-piece feed dogs
• Maximum stitch width: 6.5 mm
• Maximum stitch length: 4 mm
• Thread cutter (side mount)
• Hard cover
• BONUS: Quilt Kit
Included Accessories:
• Bobbins x 8
• Needle assortment
• Screwdriver large
• Screwdriver small
• Seam ripper
• Lint Brush
• Spool felt
• Spool cap large
• Spool cap small
• Spool Pin
• Automatic Button hole foot
• Manual Button hole foot
• Rolled hem foot
• Overlock foot
• Zipper foot
• Satin Stitch foot
• Blind hem foot
• Ultra-glide foot
• Instruction manual
• Warranty card
• Foot controller
• Hard cover
BONUS: Quilt Kit includes:
• 1/4" Seam Foot
• Craft Foot
• Cloth Guide
• Darning Foot
• Even Feed Foot
• Quilt Guide
Janome Company Warranty
25 Years on Mechanical Parts
5 Years on Electrical Parts
1 Year Labor
Janome HD3000-BE Sewing Machine

I've been very happy with its smooth running and easy reverse [the Bernina reverse was awkward]. I wish that the housing were cast metal as it arrived with a chip out of the rather flimsy plastic housing, but that doesn't affect its excellent performance.

Great service - great machine! Thanks!

An absolutely solid, smooth drive. Like a Mercedes. Just what I wanted.

This is a very good machine for a beginner or a person who wants a simple machine to sew thick and specialty fabrics. Yes, it does not have all the bells and whistles but it is a good work horse. I did have a small problem with the button hole maker but it was fixed with no problem.

Machine works great, some minor bobbin tension adjustments and all was good. Got this machine almost $50 cheaper than the White as well as saved over $92.50 in shipping another company tried to charge me. I had called and discussed this purchase with one of the people at Sew-Vac Direct, all questions answered and I bought the machine. Great service and great people.
James