Janome Front Load 5 Piece Quilt Kit
SKU:

jano-200-117-007

UPC:

654227390910

Condition:

New

Availability:

Usually leaves our warehouse on the same business day.
Description
Janome Front Load 5 Piece Quilt Kit
This quilting kit is designed for most low-shank, front loading bobbin, sewing machines. Please note that this kit will not work with Singer slant-shank sewing machines or any brand of high-shank machine.
Includes:
Walking or Evenfeed Foot

Free Motion or Darning Foot

1/4" Quilting Foot

Qullt Guide

Snap on Shank

Instructions
Walking or Evenfeed Foot
Sometimes referred to as the walking foot, it is designed with a set of feed dogs which allow the fabric to feed without shirting and eliminates the problem of the under layer of fabric coming up short. The even feed foot is also great for topstitching, which can be spoilt due to irregularity of stitching. This is often caused by the bulk created with the seam allowance especially around collars and sleeves. Using the walking foot for topstitching will eliminate this problem and give perfect stitching every time.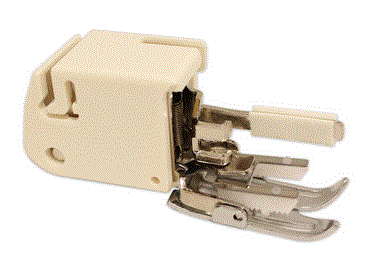 Free Motion or Darning Foot
The darning foot can be used for "free-hand" embroidery and daring to ensure proper stitch formation, minimize skipped stitches, and puckering and also protect your fingers while you move your fabric freely under the needle.
<img src="https://cdn7.bigcommerce.com/s-b8620/product_images/uploaded_images/moved-513dbea88583bbbf201a077698072d7c.gif
View All
Close
2 Reviews
Great with my Janome 2212 :)

Very happy with this. Fit my Janome 2212 perfectly. Remember to put the presser foot down when using the clear darning/embroidery foot :)

Will never have to guess again on the scant 1/4 inch. The guide makes it perfect every time.
View All
Close